People, languages, regions...

Unique? Unprecedented? It is very exciting and manifold to work with and in a translation office. You want to know more details? You are welcome...



What you should know...
about certified translations.
Questions and answers. A brief summary.







You'll find reports – by us and about us...
The media have also found us to be interesting report-material.
Check out some press reports and television broadcasts here.
Have fun!




The certificate of honour



Düsseldorf, Hotel Nikko, 2 November 1998

The 3 examiners on the Hungarian panel were awarded the Silver Needle
of Honour by the Düsseldorf Chamber of Industry and Commerce
for their many years of service in an honorary capacity.






The Journal on paper as well as PDF
The FL Intercoop Journal will be published periodically in German language. The
Journal is intended for our customers or itis available online at www.fl-intercoop.de






Participating in events is an important aspect of our work
Contacts are part-and-parcel of what addressing and dealing with our work are all
about and they are instrumental in developing and expanding our business.



The Moers Office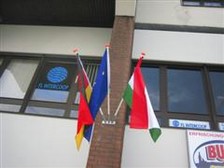 Since 1986 at Wallzentrum
Photo: July 2010





The Budapest Office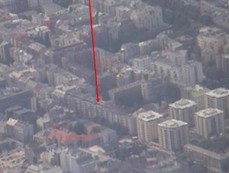 An arrow is marking the building with out Budapest office.
In the neighbourhood: The Office of the United Nations High Commissioner for Refugees (UNHCR)
Photo: July 2004

Television broadcast
Other websites of our organization
Our employees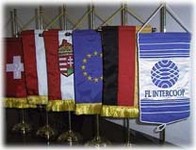 Office times of the Moers office:

Mondays - Fridays: 9:30 - 1 a.m. CET
Mondays - Thursdays: 3 - 5:45 p.m. CET



We help ensure that you will be able to stay in touch with us...
Our experienced and well-qualified translators cover a broad range of industries and disciplines, bringing specialised subject knowledge to bear alongside their linguistic skills. Much of our routine work is concerned with ad hoc translations of day-to-day correspondence and reports, thus enabling our clients to maintain close contact with their customers and suppliers and to react speedily to developing business situations. We have accumulated a great deal of experience relating to the specific needs of particular industrial sectors. These include:

Information technology
Complete software programs, hardware documentation and manuals, sales literature

Engineering - civil, mechanical, chemical, petrochemical and electronic
Reports, specifications, tenders, manuals, brochures, installation and maintenance instructions

Medical, pharmaceutical and scientific
Research documentation, journal articles, instructions on the application and use of pharmaceuticals

Construction
Proposals, site plans, tenders, specifications

Retailing/Marketing
Press releases, market-survey material, supplier agreements

Insurance
Policies, claims, general correspondence

Legal and contractual
Agreements, pre-contract submissions, case work, patent documentation, contracts
Within the European Single Market, there is a growing demand for high-quality translations of brochures, software programs and many other kinds of selling and instructional documentation. We at FL INTERCOOP should be pleased to be of assistance to you in your efforts to help you fine-tune your approach to national markets and provide the standard of service required to give you that vital edge. Let US help YOU rise to the occasion.

The object of this information has been to introduce FL INTERCOOP and the service we can provide. It will not answer all of your questions, or replace the personal contact which we think is the foundation of our service. It is only by discussing your day-to-day, "on-the-ground" requirements that we can begin to help.

Please do not hesitate to approach us again with further queries by e-mail, fax, telex or phone, if you feel this will assist you in the process of taking a decision on a suitable partner to satisfy your translation and interpreting requirements.